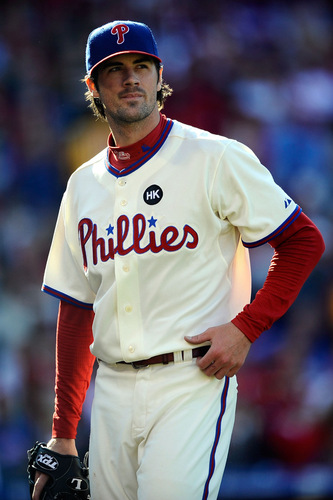 Cole Hamels is just fine. At least it looks that way. He exited the game after the 4th inning when an Adrian Gonzalez line drive struck him on his non-pitching hand. He showed some discomfort, but went on to get the final out of the inning. He went into the clubhouse and never came back. The entire city of Philadelphia held it's breath. Shortly thereafter, news came out that X-rays on Hamels' hand had come back negative, and he will not miss his next start. Whew.
BUT…Shortly after the game, Ruben Amaro Jr. addressed reporters to say it is not a given that Hamels make his next start, going the opposite way that the team went earlier in the day.
As for the game itself? Ugh. David Herndon came in to replace Hamels and immediately gave up two runs in the 5th inning and one in the 6th. Andrew Carpenter made his first appearance in 2011, giving up back-to-back home runs to Dustin Pedroia and Jason Varitek (his 2nd of the day) in the 8th.
The Phillies offense didn't fare much better. They didn't get their first hit off Jon Lester until the 4th. Their next hit came in the 7th — an inning that had promise. That is, until Ben Francisco and Raul Ibanez failed to capitalize with a runner in scoring position in back to back at bats. In the 9th, Ryan Howard hit a  two-run bomb 429 feet to right center, just above the AT&T sign for his 17th home run of the season. Jonathan Papelbon came in and put an end to any hopes of a rally and the Phillies dropped the final game of the series 5-2.
Sure, this loss wasn't any fun, but they took the series; something a lot of us thought would be a tall task. So, overall the series was a success. The Phillies sit at 51-31 — the best record in the MLB — on pace for more wins than their MLB best 97 last year.
The Phillies go up north tomorrow for series with the Blue Jays. Kyle Kendrick takes the mound for the Phillies, while Ricky Romero takes the mound for the Blue Jays. The game starts at 1:07 pm.
NOTES:
-Cole Hamels did not speak after the game to reporters, apparently ticked off about a run in with a camera man.
-Charlie Manuel said Hamels had a significant bruise and the hand was wrapped, although reporters didn't see it because he did not come out to talk.
-Ryan Howard's RBI gave him 812 for his career, moving him into 9th place on the Phillies all time list ahead of Greg Luzinski.