The Phillies have signed reliever Mike Adams to a two-year, $12 million contract, with a third-year vesting option at preusmably the same annual rate.
Adams underwent surgery for Thoracic Outlet Syndrome in October — a literal rib-removal procedure — but expects to be ready for opening day. He has had his fair share of health issues over the years but is still very much worth the risk at $12 million over two guaranteed years. As with most vesting contracts, its design will likely mean that Adams is very much worth that extra year and $6 million if the option is triggered.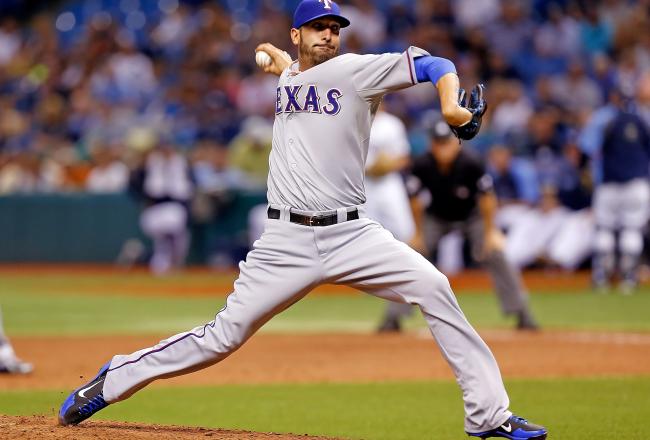 Adams, from 2008-11, was an elite major league reliever. He had videogame numbers in that span. He made 237 appearances in a setup capacity and posted the following numbers: 1.71 ERA, .235 BABIP, 2.52 SIERA, 28.3% K-rate, 6.8% BB-rate, 0.90 WHIP.
He had a K/BB ratio over 4.0, an above average groundball rate, and what looked like a legitimate skill at inducing weak contact and keeping runs off the board.
The Padres had Trevor Hoffman and Heath Bell closing games out in San Diego, while the Rangers went with Neftali Feliz, but Adams was better than all of them in this span.
Last season, Adams saw his strikeout and walk rates decline, while injuries slightly limited his action. He threw 52.1 innings and had very good numbers but it was his worst season since becoming the Adams we know and love with the 2008 Padres.
That isn't to say he will continue to decline, or that he has lost that Mike Adams mojo, but rather that it's important to remember that the Phillies signed the age 34-36 Adams and not the younger, peak version. He could get back to somewhere in between last year and the preceding span, but he doesn't have to in order to justify this contract.
And that's what makes this move solid: the Phillies didn't, as frequently happens with relievers, pay Adams current dollars for past performance.
They didn't sign him to the eight-figure annual salary his peak numbers likely merited. They didn't even guarantee  three years as an enticement to accept a lower annual value. Unless doctors accidentally removed his entire ribcage, or every other team has access to detailed medical data the Phillies don't, it's hard to find a reason to really dislike this move.
Even the watered-down version of Adams that pitched for the Rangers last season was worth $6 million, $ per WAR be damned, since I'm not really a fan of using WAR for relievers. Now, one could argue that this is $6 million spent in an area that didn't really need an investment, but the front office clearly wanted more stability in the bullpen. Wouldn't you rather this than an $11 million Rafael Soriano?
The Phillies may have missed out on some big-time talent this offseason, but signing Adams to this reasonable contract was a very subtle way of improving the team in a more pronounced manner. The Phillies bullpen pitched very well after the all-star break last season, as some pitchers regressed (in the good direction) while others succeeded after being given a chance to replace dead weight. Adding Adams to that mix is exciting.
Having said that, the Phillies bullpen was pretty great after the all-star break and there are more significant needs elsewhere. If this move precludes them from upgrading in the corner outfield or rotation, then its value is reduced. However, as it currently stands, I'm choosing to evaluate it from the best case scenario standpoint as the start of more moves to come. Though if the Phillies really just signed John Lannan to be their 4th or 5th starter, then perhaps I spoke too soon with that best case scenario talk.