Posted by Ian Riccaboni, Fri, February 21, 2014 08:00 AM Comments: 11
The Phillies Nation Top 100 continues today with #8. Our mission is to assess the Top 100 Phillies players of all time using impact to the Phillies, individual achievement, team achievement, traditional stats, and analytics as our criteria. The list was compiled by Ian Riccaboni and Pat Gallen with input from the rest of the Phillies Nation staff. 
From this point forward, each weekday, we will reveal two Phillies from the PN Top 100 in separate posts. To view the players listed thus far, please click here. To view the 2008 iteration of the list of Greatest Phillies of All Time as compiled by Tim Malcolm, please click here.
Please check back this afternoon for #7.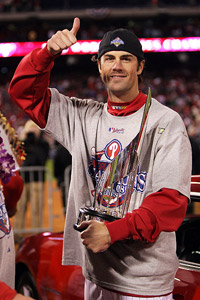 #8 – Cole Hamels

Years: 2006-Present
99-74, 3.38 ERA, 1.141 WHIP in 1596.2 IP
Previous Rank: 40 (+32)
fWAR Phillies Rank: 8th among pitchers, 21st among Phillies
Signature Season: Posted a 1.80 ERA in 35 IP in the 2008 postseason en route to winning the 2008 NLCS and World Series MVP Awards after leading the NL in WHIP with a 14-10 record and 3.09 ERA.
Three-time All-Star (2007, 2011-2012)
When Philadelphia took a scrawny 6'3″, 18-year old lefty prep pitcher from San Diego with the 17th pick in the 2002 draft, they were taking a considerable risk. The player the Phillies were selecting, Cole Hamels, had broken his humerus bone in his left arm as a sophomore in high school and there was seemingly a few safer picks with considerable talent left on the board, namely the University of Kentucky's Joe Blanton and Stanford's Jeremy Guthrie. Yet, the Phillies had Hamels, who had been clocked at 94 MPH in high school, fall into their lap after San Diego, who was believed to have interest in Hamels, selected shortstop with Khalil Greene at pick 13 instead. As we know from Moneyball, this was one of the many moves that allowed the A's to snag Nick Swisher with the 16th pick and, sub-sequentially, the Phillies Hamels at 17.
I would say the move worked out pretty well for them.
Continue reading The Phillies Nation Top 100: #8 Cole Hamels